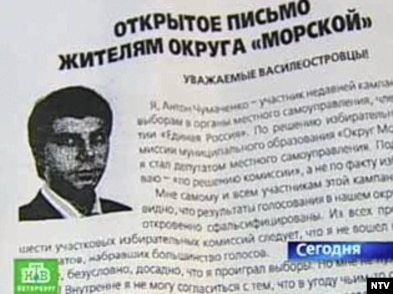 To steal a line from Gene Hackman in Enemy of the State, Anton Chumachenko is either incredibly smart, or incredibly stupid.

This first time United Russia candidate has "publicly renounced his own victory, expressing disgust that votes had been falsified in his favor." Yeah, he really did it:
"I am sincerely convinced that my colleagues in the party will support my position and make all efforts to make sure that the rule of law prevails," he wrote. "The party's strength lies not in exaggerated percentages of support, but in its ability to stand up for the truth."
Now, this is either one of the most brilliant self-promotion campaigns ever (how else could a 23-year old United Russia small-timer make it onto the front page of the
Washington Post
) or he's alarmingly naïve. United Russia's
only
strength lies in the exaggerated appearance of public support...oh yes, and all that violence and prision time for people who do not
play by the rules
.
Khordokovsky might soon have a bunkmate, or not. See Gene Hackman above.