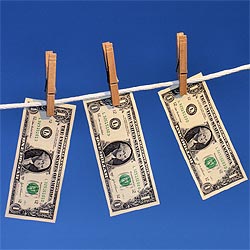 Kommersant: Up to 27 percent of Gross Domestic Product is laundered in Russia each year. The laundering extends to legalization of illegally acquired wealth, to income concealment and embezzlement.
Russia's nominal GDP totaled 942 billion euro (roughly 35 trillion ruble) in 2007. The amount was around 19.1 trillion ruble in the first half of this year, while the GDP growth reached 8 percent.
Not sure how to make this one funny...I guess I could make a laundering pun? A fourth of GDP annually laundered in Russia; the remaining 3/4 still dirty.