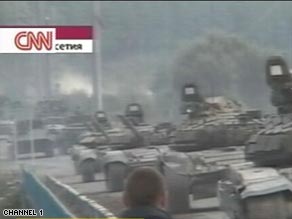 It has happened.
Georgian President Mikheil Saakashvili has opted to commit state-suicide. Rather than accept a gradual path towards NATO membership, and a respected role in the international spotlight, Saakashvili has chosen to
settle old scores in South Ossitia
. Worse yet, he's doing so with equipment and training provided by the United States.
Since 1991, the US has provided over $1.7 billion in assistance to Georgia, much of this in the form of arms and special forces advisors under projects like the Georgian Train and Equip program. In response, Moscow has claimed that the US was destabilizing the region through Georgia's military build-up.
Today, Saakashvili's has proven the Russians right.
Saakashvili has little moral ground on which to stand when
he claims
that, "A full-scale aggression has been launched against Georgia" at the hands of Russia. Moreover, he can hope to gain little from this gambit, save increased isolation from the Europe and NATO, a pull-back in US support, and an overtly aggressive Russian neighbor.
Prospective NATO members and close friends of the US do not invade ethnic enclaves or tempt a war with Russia -- no matter how old or frozen the conflict.
We can only hope that Russian tanks stop at the border of South Ossitia.