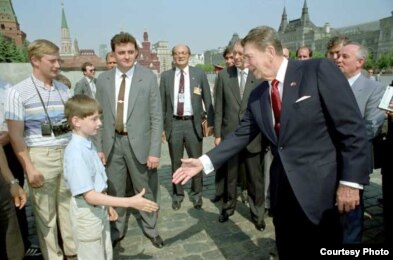 There's been some chatter about former White House Photographer Pete Souza's
claim
to have captured a young Vladimir Putin posing as a random tourist on Red Square. Allegedly, this meeting occurred during Regan's famous visit to Moscow. According to Souza, "It's been verified....and as soon as you see the photo you say, 'Oh my gosh, it really is him.'"
Not sure we're buying it.
Maybe Souza is better at making out those crazy 3-D pictures of a dinosaur or the space shuttle, the kind where you have to cross your eyes and get a headache before the image pops out. The same principles works for this "Putin photo" (including the headache).
On the plus side: the chin is right, as is the brow line, hair color, and direction of his part. But then again: the real Putin has/had less hair, the ear lobes are off kilter, and the nose is
very
different from older known photos of Putin, and the smirk looks wrong.
If it is Putin, then we can confirm that he has had a nose job. If it's not, then maybe Gorbachev didn't set Regan up after all. Maybe Regan just happened to meet to group of average Soviet tourists; just minding their own business on Red Square when, oh my gosh, it's the U.S. president...time to ask him about America's poor human rights record and the lack of democratic freedoms in the United States.