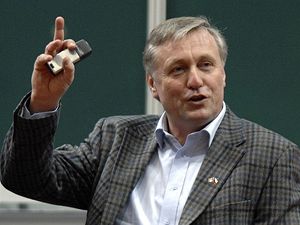 Terribly punny, I know. Deal with it.
According to the Wall Street Journal, the Czech Government collapsed today. Honestly, I breathed a little easier once I saw the words Czech Government and NOT Stock Market.
In any case, the right-of-center Czech government, which holds the rotating 6-month presidency of the EU, failed to overcome dissent among its ranks and lost a parliamentary no-confidence vote. The result turns the government of PM Mirek Topolanek (above) into a caretaker cabinet for the foreseeable future.
It is not immediately clear who will be picked by President Vaclav Klaus to form a new government. If three attempts to form a government fail, early elections must be called. Oh Czech Republic, do NOT go Ukraine on us...please.