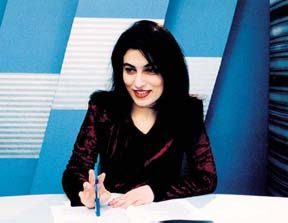 Good news this week from Azerbaijan. Word came that independent television broadcaster ANS will return to the airwaves.
It seems that government regulators have changed their minds about the status of the television station. As Azerbaijan's National Radio and Television Council Chairman Nushiravan Maharramli explained, "Taking into account President Ilham Aliyev's position, and the numerous appeals we have received...we have decided to permit ANS to resume broadcasting."
The important part was President Ilham Aliyev's position.
Yet this is no time for champagne. ANS is not free and clear. The station will have to compete for a new frequency tender next year – a competition could loose against well-funded entries.
Government officials have long used "regulatory injunctions" and frequency tenders to control independent broadcast media. What's more, journalists and news outlets in Azerbiajan do not enjoy the protection of an independent judiciary, and remain heavily dependent on the caprice the government or oligarchs for sponsorship.
The case of ANS demonstrates that independent broadcasters in Azerbaijan are very much on the defensive.
Such is the state of the press in the country, it certainly isn't Free.
###
(Pictured above is ANS' own Action News Reporter Sevil Nuriyev. She has my vote to replace Katie Couric. As Elvis Costello says, 'Ggrrrrr.') PBD